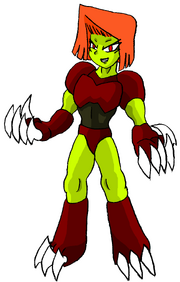 �
Character
Edit
Simdragon is a 40 year old man with ambitions about Voltarius and the D-Bug Org. Always faithful to this cause, Simdragon starts out in Season 1 as the 2nd in command of the D-Bug Org. He is later defeated and arrested in Season 2.
Personality
Edit
Simdragon seems very passionate to the cause of the D-Bug Org, and also frequently considers himself superior to his opponents, despite his frequent losses to players such as Nailock(Kotetsu Ryu).
Abilities
Edit
Simdragon's normal attacks are basically based on melee attacks using his powerful claws combined with his swift movement. The exception is when he uses a virus-frag, in which case he can shield himself, absorb and reflect attacks, and summon random projectiles out of nowhere.