Shogun

Real Name:

No information

Attacks:

No information

Super Attacks:

No information
PersonalityEdit
Shogun has a rather upbeat attitude and true to his name is a dedicated warrior who sticks with his friends to the end.
Role in the seriesEdit
Shogun along with his friend/partner Tsuzuku are introduced in the "Noob Group" in season 2, displaying great skill despite lack of experience. During various attacks from the D-Bug Org they show off their prowess, assisting veteran hacker-busters Kirbopher15 and Alpha much to their protest. Perhaps in his boldest moment, he along with his friends form their own party to assist Alpha in his final crusade on the D-Bug base.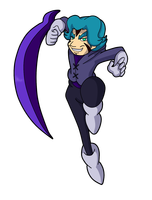 Abilities:Edit
He displays incredible swordsmanship, along with being a great team fighter.
Creation information
Edit