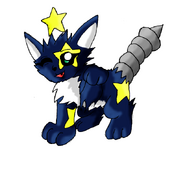 Personality
Edit
Hamstar is shown to be a happy, go-lucky user in TOME, and has helped Alpha's team on more occasions.
Abilities
Edit
Hamstar is shown to control astrological abilities and star-based attacks.
Role in the series
Edit
She first appeared in the season 2 episode "Nailock: Kotetsu Ryu: Take two!" as a major character in the episode. She was lost in the first moments of TOME, but Nailock helped her find Thunder, and eventually she would even clash with Nailock's old enemy, Simdragon.
Star-based attacks. That is all.
Creation information
Edit
Unknown.