Grounder

Real Name:

Unknown

Age

8-13

Attacks:

No information

Super Attacks

No information
Personality
Edit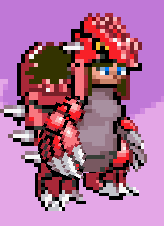 Grounder is a sweet girl whose character looks like a Groudon. Like the Pokemon she represents, her attacks are ground based and like the earth. She's patient and strong, despite her lack of battle experience.
Abilities
Edit
Role in the series
Edit
Creation Information
Edit
Grounder is based off the sprite of Groudon
TOME - Terrain of Magical Expertise
Edit
Granda

TOME Name:

Granda

Gender:

Female

Location:

Saigon, Vietnam

Class:

Animalistic

Power:

Stegosaurus

Grounder's design in T.O.M.E was changed entirely, being based on a Stegosaurus rather then a Groudon, she has also like most characters in T.O.M.E been renamed, now called Granda. Her personality has now been changed from a sweet girl to being very hot tempered (as shown where once she was beaten by Nylocke she became extremely angry beating the crap out of him when she met him again).